Recent analysis carried out by The Retail Data Partnership (TRDP) shows that card payments make up just 14% of total payments made in convenience stores. This is far behind the wider trend in retail, both online and in-store where 76% of payments are now made by card.
This difference of 62% is caused by various factors which make convenience unique in relation to other parts of the retail sector including:
Lack of online options – Many convenience stores do not offer online shopping options, where card payments are the norm.
Lower average transaction value – In December 2018 – The average convenience transaction was worth £7.03. The lower the transaction value, the more likely it'll be paid in cash.
Lack of Card Charge Ban Compliance – Up to 21% of convenience stores continue to charge for card payments, making it more likely that regular customers will carry cash into the store.
Such heavy use of cash in the convenience sector is an issue. As well as the increased security risk of holding large amounts of cash on-site, it is costly to process cash at the bank. Retailers can solve this particular problem by using an in-store ATM to dispense cash instead of taking it to the bank.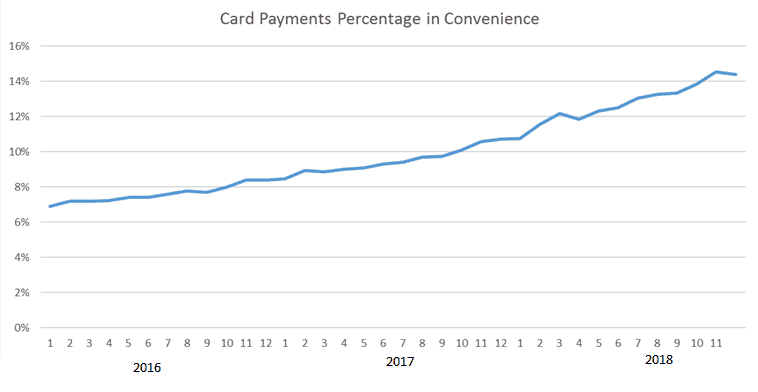 Despite the poor performance of cards in convenience stores, usage is on the rise, increasing by 4% in 2018 alone. Innovations in the payments and EPoS sector have made making card payments easier for customers and taking card payments a smart move for retailers. For example, ShopMate EPoS' integrates with a variety of payment providers available here.