Vaping was deemed to be the antidote to declining sales of traditional tobacco products. It was to provide independent c-stores with a reliable source of sales and profit revenue. Data from our sample of 2,900 symbol and indie stores show that e-cigarette like-for-like value sales in independent c-stores leaped by 49% in 2018 vs the prior year. Yet, the vaping category in c-stores still only accounts for just under 1% of tobacco value sales and just over 2% of pack volume sales.
In theory, c-stores are ideally placed to offer smokers an alternative to cigarettes and RYO, and to ramp up e-cigarette sales by converting smokers into vapers. Sadly, our data does not support the theory. In January 2018, only 16% of e-cigarette value sales in independent c-stores came from vaping starter kits. By December it had fallen to 14%!
The fortunes for independent c-stores may change in 2019. The leading heated tobacco brand IQOS has started to catch the c-store shopper's attention. Selling from a significantly lower store base (8% of sample stores vs 31% for vaping starter kits), IQOS (including Heets) pack volume sales overtook vaping starter kit and disposable e-cigarette sales in October 2018.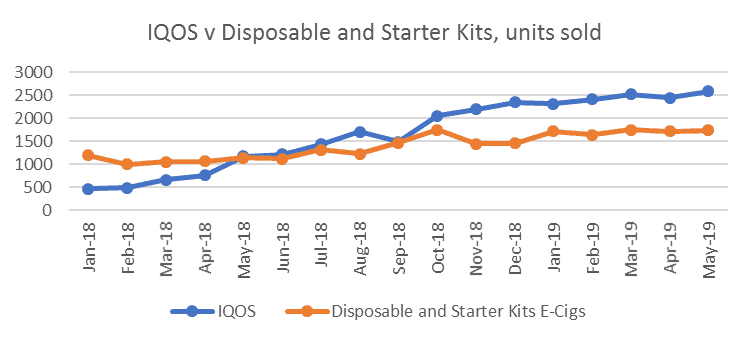 IQOS continues to outpace vaping starter kits and the entire vaping category both in terms of average £ ROS and average unit ROS growth. Provided it leverages the power of field sales, consumer ambassadorship and retailer education, it may become that next big thing that retailers were waiting for that has the potential of weaning independent c-stores from their reliance on traditional tobacco sales to keep the doors open.