Some experts believe that it is a matter of "when" and not "if" hemp and cannabidiol (CBD, a chemical compound extracted from cannabis plant) products become maintream, helping the nation stay mentally and physically fit. The CTA, the UK's first voluntary Cannabis Trade Association, lists 273 member organisations that are actively manufaturing, marketing and selling various hemp and CBD products. EPoS data from our sample of 2,900 symbol and indie stores shows that last year some 207 independent convenience stores (7.7% of our estate) sold at least one CBD product. So far in 2019, this number has jumped to 763 stores (26% of our estate) – a nearly fourfold increase in the number of c-stores selling hemp and CBD products.
But are CBD products right for a convenience store? Sales review of the last four weeks to end of June 2019 reveals that 63% of hemp and CBD stockists sold 3 or less units of these products in the four week period. Only 18% of them sold between 2.25 and 31 units a week leaving the remaining 19% of stores in a lukewarm middle. It is no surprise then that a number of well known retailers confessed that they would be phasing out CBD products (Talking Retail, https://www.talkingretail.com/opinion/talking-points/retailer-soapbox-will-sales-cannabis-derived-cbd-products-take-off-uk-10-05-2019/). On the the other hand, some stores consistently generate at least £50 in weekly sales, which is higher than 85% of independent c-stores make from the entire Vaping category!
So what hemp & CBD products do independent c-stores currently sell? Vapig companies have been successful in convincing independent retailers to stocking CBD infused e-liquids as 18% of them do (67% of the 763 stores that sold any CBD product in 2019). The other most widely sold CBD products are soft drinks (27% of CBD stockists), hemp-based tobacco rolling papers (15% of CBD stockists), and CBD supplements in the form of oil, tincture and capsules (3% of CBD stocksists).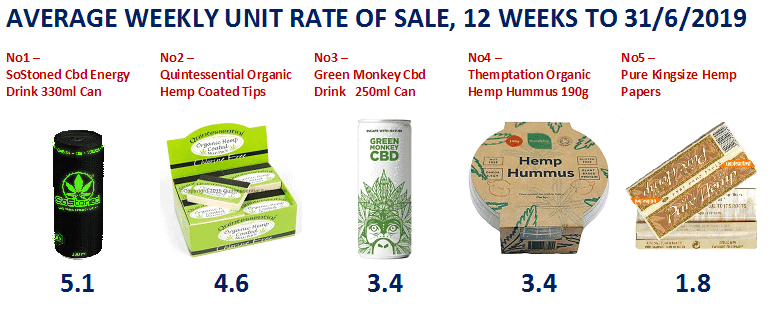 Most peoples' awareness of Cannabis is that smoking it is illegal. It is not suprising that many c-store shoppers are still cautious about buying CBD vape in a c-store, potentially in front of their neighbours or school children. However, picking up a can of CBD drink feels like an act of innocence! After all, one may not even have noticed those three letters on a can of soft drink …
A review of weekly value and volume (unit) rate of sale in the top 10% best performing "CBD stores" reveals that traditional tobaco accessories and CBD-infused food & drink products are the fastest moving CBD products in-store. Dietary supplements such as Hope Advantage Plus 4% CBD Oil 10ml offer the highest £ value rate of sale due to higher unit price (around £35 per pack) but only one unit every other week on average would be sold in a c-store.